Dutchs Progressive and Symfo Bands.
II
Ivar de Graaf made one of the toughest decisions of his life in 2001: he decided to leave the successful Dutch band Within Temptation: "The band was becoming a ful time job. I no longer had the time to write my own music, which is something I really love doing. So I really had no choice, but to leave Within Temptation."
First he formed "Jambone", but a year later he & Judith started to write with an idea to start up a new one.
Kingfisher Sky's brilliant debut album, Hallway Of Dreams ('07), is available for purchase now.
An absolute fine Prog album with he beautiful voice of Judith. Melodic prog at his best, some gothic influences but no heavy metal. Although i think that a wider Prog audience will like their approach. Yes Within Temptation is one of the bands that came in my mind, but happily (to my humble opinion) no grunge. A few songs are really laid back and Judith's beautiful voice can be explored to the max. The album is a good mix from more up tempo songs to more softer passages, so there is enough alternation which makes it album highly enjoyable.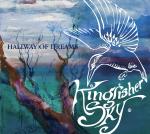 Ivar de Graaf: Drums and songwriting
Judith Rijnveld: Vocals and songwriting
Eric Hoogendoorn: Bassguitar
Daan Janzing: Guitar
Edo van der Kolk: Guitar
George van Olffen: Keyboards


Recommended!

Skin Of The Earth (2010).
Judith Rijnveld - vocals
Ivar de Graaf - Drums
Edo van der Kolk - Guitar
Chris Henny - Guitar
Maaike Peterse - Cello
Eric Hoogendoorn - Bass
David Gutiérrez Rojas - keys
with:
Ruud Jolie: mandoline op The Edge Of Insanity (Within Temptation)

In 2011 the band made progress and some nice clips.
Maaike did session on cello for Ayreon (The Theory of Everything '13)

Band from Bakkeveen, Friesland in the lovely North of the Netherlands. After a studio project King Eider with Derk-Evert Waaikens, Koen Roozen (drums Flamborough Head) and Hans Gerritse (album "Somateria Spectabilis" '06), this band saw the daylight.
A waking the Muse ('09)


Gert van Engelenburg - keyboards, Backing Vocals
Jos Harteveld - Vocals, Guitars
Eddie Mulder - Guitars, Backing Vocals
Koen Roozen - Drums
Peter Stel - Bass, Backing Vocals &
Derk Evert Waalkens - keyboards, Backing Vocals.
Karin Reyhani (7-9-58). She didn't finished her studie psychology and arabic-languages and becomes a 'folkie'. In '86 Land of Ta, is released. A nice relax album, soft rock. With Hans Vermeulen, Cees Buenen and drummer Max Werner (Kayak). In Japan she becomes very popular. Company of Fools ('88) is her secound album. Colin Blunstone is a guest on Splendid Morning from the album No Way back ('89). Followed up by Eye on the Waves (91). On my own is her latest album. An album with songs all recorded in her own home studio. And after her death another album was released: Leef me. This album contains beautifull demo versions of songs in the Dutch language, is her last album, she died april '96.
NITS, THE.
Henk Hofstede (21-9-51)- vocals, guitar and keys,
Robert Jan Stips (4-2-50)- keys and vocals,
Joke Geraets (18-10-57)- bass and vocals,
Rob Kloet (16-6-52)- drums and vocals.
Founded in '74, by the Rietveldstudents Alex Roelofs & Henk Hofstede. Civilised pop with IQ... originally influenced by sixties British pop as well as bands like XTC, Talking Heads or Kraftwerk.
Roelofs leaves in '81 and is replaced by Golden Earing guitarist Robert Jan Stips.
Selective biblo; Adiue sweet Bahnhof ('84), In the Dutch Mountains ('87), Nets ('95 Best of ), Alankomaat (means low lands, '98), Wool ('00), Les Nuits ('05).
Members:

Henk Hofstede (1974-...)
Rob Kloet (1974-...)
Alex Roelofs (1974-1982) Michiel Peters (1974-1984)
Robert Jan Stips (1982-1996)(played in Supersister & the Golden Earing)
Joke Geraets (1985-1991)
Petra Lugentburg (1985-1986)
Martin Bakker (1992-1996)
Peter Meuris (1992-1996)
Arwen Linnemann (1998-...)
Laetitia van Krieken (1998-2004)
Leona Philippo (2000-2001)
Vera van der Poel (2001-...)

Doing the Dishes ('08).
The Nits are back in the charts and to my humble opinion they deserve it with this piece of Art. They've archive to make happy, cheerful Rockin' songs. Again sophisticated pop a-la Bob Dylan meets the Travelling Wilburries, Crowded House and David Byrne. And of course their lyrics are worth a better listen and or reading too, stories about live, sometimes funny sometimes serious like the single "Where have all the flowers gone?" (an anti-war song). Botleneck guitar, banjo's acoustic guitars, and swampy guitar riffs it's all there. A real feel-good album which shows that those Dutchmen are stil a live and kicking. A fine relaxed album for us older Rockers.

Henk Hofstede - banjo, vocals, guitars,
Robert-Jan Stips - keybaords, vocals,
Rob Kloet - drums.

The latest album is called Strawberry Woods ('09). And as the title suggest is full of Beatleseque sounds, harmonies and tunes.

They're on tour, so please check out their dates.
Live @ the Parkstad Theaters Heerlen
October 2010.
One of the most beautiful and best theatres here in the lovely South, a nice, deserved spot for this band.
Just the 3 of them on tour, small cast with a great full sound. It's remarkable how these three youngsters (50+ or more ;-) are able to fassinate and bring a full show with only a drumkit, guitars and 2 keyboards. Subtile, poppy, catchy but intelligent.
Henk telling stories about his life, his family or happenings of the past, telling about his hero, mr Niel Young.
He got more hero's one of them are them Beatles and that you can hear in the compositions.
These are enthiosiastic prof's, playing the notes and tunes carefully, but with emotion, they know hoe to entertain and are able to do make the audience smile, laugh, dance and think... what more do you need?


Strong debut elpee The Syrens ('83), only pressed as as ceedee for a relation gift. He played every instrument by himself.
Please visit my guestbook.
or click on reply for feedback-form please

Just a few simple questions and space for comments.
Symfo-Index.

Updated Dec 2011 by Nick.
Shine On!

www.mostlypink.net